WORKSHOP WITH JULE WAIBEL
H-hall stand H01:06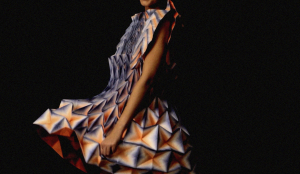 "PAPER HAS NO LIMITS"
Together with Stora Enso, German artist Jule Waibel is participating in Scanpack in a creative workshop on what can be done with paper. She has garnered international acclaim for her paper dresses.
JULE WAIBEL CONNECTS a large part of her artistry to her own expression, the "Unfolded Universe", which she says refers to the fact that everything can be folded.
What will you be doing at Scanpack?
"I've been working with Stora Enso for over a year now and I've done live shows in which I fold different things with paper from Stora Enso. I've made 'giveaways' for various events, things like key chains and flowers. What I will be making at the fair in Gothenburg is still a secret, but it will be something that visitors can take home."
Visit Jule and join her workshop in H-hall stand H01:06 and start folding!
Tuesday 23 October
10.00-12.00      Live Folding Show
14.00-16.00      Workshop
Wednesday 24 October
10.00-12.00      Live Folding Show
14.00-16.00      Workshop
Thursday 25 October
10.00-12.00      Live Folding Show
14.00-16.00      Workshop
Friday 26 October
10.00-12.00      Live Folding Show