Fully biodegradable package with Finnish design
Sulapac® is presenting one of the world's most ecological packaging materials for cosmetics and luxury products at Scanpack. Sulapac has been awarded as the best green packaging solution at various international events.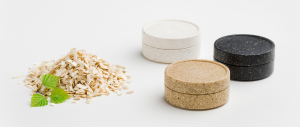 Sulapac's award-winning sustainable packaging concept has been attracting a lot of interest from major brands as they are vigorously searching for more environmentally friendly packaging options. Fully biodegradable Sulapac® packages resist water and oil and do not allow oxygen penetration. The product is ecological, beautiful and the material offers practically unlimited design possibilities.
– We use wood only from sustainably managed Nordic forests. It contains no harmful components and it has a low carbon footprint. Sulapac® can be processed like plastics and it is the first mass-producible premium eco-packaging in the world, says Suvi Haimi, CEO and Co-founder.
The roots of Sulapac® innovation can be found in the Finnish forest. The founders of Sulapac, Suvi Haimi (PhD) and Laura Kyllönen (PhD), wanted to develop a beautiful and ecological cosmetic packaging material to reduce plastic waste.
Unique packaging concept
Sulapac® material can be processed and mass-produced, just like plastic, using conventional equipment, therefore no new capital investment is needed.
– Sulapac products combine ecology, luxury and unlimited design possibilities, which makes it a totally unique packaging concept in the world.
Sulapac premium eco-packages will reduce the accumulation of plastic packaging waste into the nature without compromising any product features making it an extremely attractive packaging choice to any product brand.
– The first identified target segments are cosmetics and luxury packaging. There is growing demand for sustainable and biodegradable alternatives in the cosmetic and luxury packaging, and these segments form an interesting share of the global packaging market. Sulapac® material and the beautiful wooden appearance provides additional value to the cosmetics and luxury brands.
– We believe that Scanpack is an excellent opportunity to meet the leading Nordic brands and find new partners who want to challenge the traditional plastic packaging and lead the way to a more sustainable and cleaner world.
Read more about Sulapac www.sulapac.com