Provides renewable solutions to the customers
Mikael Hannus, Innovation Manager at Stora Enso, will hold a lecture at Scanpack on the theme "Nature's smart materials – What a tree can do" during which he will present his ideas about packaging materials of the future and the best way to use the forest.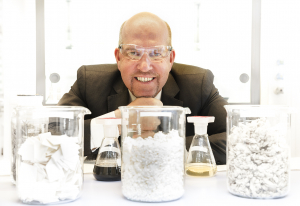 Stora Enso is developing its role in research and innovation structures, with the aim of constantly filling its pipeline with relevant innovations to meet customer needs.
"Customers have interesting needs for solutions and renewable materials. And thanks to our customers, we are leaders in the field. In the long term, the goal is to replace fossil fuels with renewables."
The well-managed Swedish forest is being replanted where it is harvested. The volume in the forest has doubled in a relatively limited period of time.
"Growth is outpacing our felling operation and we have never had as much wood raw material as we have now. More trees are being planted, and the forest is sustainably managed to ensure growth. Forests do not become overgrown if they are properly managed. Active forest management is essential for the forest to thrive and grow."
The utilisation rate of the different parts of the tree is higher than previously and more uses are being identified. Harvesting more than previously on fewer trees is part of the trend. Reuse is an important objective; printing paper and corrugated cardboard are two good examples of recycling.
Step by step, Stora Enso is replacing hybrid solutions like carton and plastic with wood and cellulose solutions.
"I have to admit, I have the most interesting job at Stora Enso! What we do benefits both Stora Enso's customers and our planet. I look forward to speaking at Scanpack about nature's smart materials and how they can be used in packaging solutions."
Stora Enso has participated at Scanpack in the past. This year the focus is on how to "Future Proof Your Business".
"We will show many innovative solutions with renewable materials. We want to help create a more sustainable future by replacing non-sustainable materials with renewables.
If you would like to secure your future business, then meet Stora Enso," says Michael Bohm, Product Manager at Stora Enso.
Curious visitors who want to see unique new packaging solutions made of renewable materials are expected to come to the trade fair.