Sustainable innovations for a better future
Simon Boas Hoffmeyer, Sustainability Director at the Carlsberg Group, will explain at Scanpack how Carlsberg works strategically with sustainability through its industry-leading sustainability programme Together Towards ZERO. The presentation will contain concrete examples of what the company is doing to achieve its ambitious goals, which include achieving a net zero carbon footprint in its breweries and reducing the carbon footprint across the entire value chain by 30 per cent by 2030.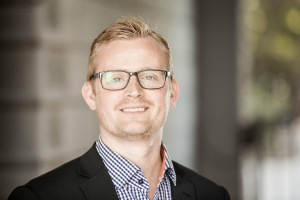 Packaging accounts for about 40 per cent of the company's global carbon dioxide footprint and is therefore an important focus area. During the presentation Simon will provide examples of how the company engages consumers with more sustainable packaging innovations. His plans include explaining about the development of the world's first biobased beer bottle – the Green Fibre Bottle.
"Caring for the environment and taking responsibility are truly embedded in the company's culture. We're proud of what we do at Carlsberg and gladly show others that a business can be efficient, profitable and sustainable simultaneously," says Simon Boas Hoffmeyer.
Simon has developed business-driven sustainability solutions for more than ten years in many different areas, including ethics/compliance monitoring, reporting, communication, data management and brand building. He is the director of sustainability at the Carlsberg Group and is responsible for developing and implementing the sustainability programme "Together Towards ZERO". He is especially interested in making sustainability relevant and accessible to consumers, as well as in developing partnerships across the value chain to achieve sustainability goals.
Accepts great responsibility
Since 2015 Carlsberg has reduced its global carbon dioxide footprint by 16 per cent and the company is sure that it will achieve its ambitious target. Other companies are inspired by Carlsberg's belief in its own strength and strategy.
The new fibre-based beer bottle is revolutionary and offers consumers a lower carbon dioxide footprint.
"The consumers benefit from our focus on working sustainably. We want to help consumers to use packaging in a better way and Carlsberg works with the entire chain, from production to recycling."
Carlsberg works with sustainability on multiple levels and also promotes responsible consumption. Proactive campaigns include "Don't drink and drive" and preventing minors from consuming alcohol.
Simon looks forward to engaging the audience at Scanpack and discussing Carlsberg's sustainability programme in detail.
"It will be exciting to meet experts in the packaging industry who know packaging inside and out," says Simon Boas Hoffmeyer.
Read more about Carlsberg's sustainability efforts: www.carlsberggroup.com/sustainability