Prestigious Sustainability Awards to be presented at Scanpack for the first time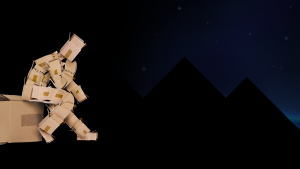 Scanpack, the huge packaging trade fair that takes place every three years, is the largest event from any sector to be hosted at the Swedish Exhibition and Congress Centre. In fact, it is so large that at the next edition, taking place between the 23rd and 26th of October, extra floor space will be used at Scandinavium.
This year's edition will also receive even more attention because it will host the Sustainability Awards. These are being presented for the fourth time and are widely regarded as the world's foremost prize celebrating innovations in sustainability in the packaging sector.
"It's an honour. And it means the outside world is looking at us in a whole new light," says Anna-Lena Friberg, Business Manager for Scanpack.
The competition is organised by the leading magazine Packaging Europe, which will be present at Scanpack as the International Media Content Partner. Its status is reinforced by the support of global corporate brands such as Coca-Cola, Procter & Gamble, Reckitt Benckiser, Marks & Spencer, Suez and Europen. The jury is formed by sustainability managers from these and other companies.
Winners of six categories
The jury first selects the winners of six categories. The "Best Sustainable Packaging Innovation" overall is then chosen from these six winners. Last year, Sweden notched up a success when ICA won the "Best Practice" category for its laser-marking of fruit and vegetables, while the overall victory went to the German Papierfabrik Scheufelen for its development of packaging paper extracted from locally grown sun-dried grass.
This year's awards will be presented on October 23rd, the opening day of Scanpack. The Sustainable Packaging Summit will also take place on that day. Participants at this high-level seminar include French yoghurt producer Danone and Britain's Iceland Foods, who decided to remove all plastic packaging by 2023.
Anna-Lena Friberg has high expectations:
"We are very pleased to announce a programme of high-ranking speakers and several superbrands. It raises the status of the entire trade fair and gives Scanpack a high profile right across Europe," she said.
The purpose of the sustainability awards is to focus on the possible, according to Tim Sykes at Packaging Europe:
"The initiative not only stimulates discussion but also contributes to the spread of ideas, so we can get a cross-fertilisation of the huge amount of innovations that are currently taking place in packaging technology," he said.
"This can happen in several ways: in the form of early R & D initiatives, fully launched solutions or collaborative projects within the sector."
Scanpack 2018
23–26 October at the Swedish Exhibition & Congress Centre
Northern Europe's largest packaging trade show
Exhibitors: Approx. 500 exhibitors from around 30 countries
Visitors: 13,483 (2015)
---
Read more about the awards here »
Get your first class ticket to packaging brilliance here »