Corrugated cardboard – the right choice for a circular packaging industry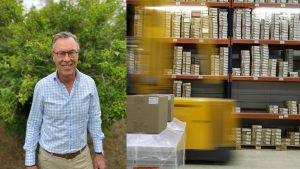 The circular economy is high up on the agenda in all industries right now. There are many dimensions to increasing circularity, and a lot of effort involved, but it is a fact that some have come further than others. Corrugated cardboard has not only revolutionised the packaging industry; corrugated cardboard manufacturers themselves have provided some great solutions in automation, logistics and effective marketing. Now they are leading by example in the circular economy.
DS Smith is a packaging group based on circular thinking and a member of the Swedish Corrugated Cardboard Association (SWIF). Thorbjörn Sagerström, CEO of DS Smith Sweden since 2015, is involved in leading the work to ensure a more environmentally friendly industry.
– Recycling and the circular economy are an important part of our DNA. The objective for any new corrugated cardboard from DS Smith is that it is largely based on recycled raw material. The fact that this objective has coloured the Group's environmental work is evident in a number of ambitious commitments, which have the intention of taking responsibility for reducing emissions and minimising use of the earth's resources, Thorbjörn says.
All industries have their eyes on each other when it comes to sustainability and environmentally friendly production. The corrugated cardboard industry in particular has had a longstanding advantage due to its high percentage of recycled material.
– Recycling is extremely high for corrugated cardboard. At DS Smith it is 95 per cent. But recycling is far from everything when it comes to circularity, Thorbjörn says.
Working in a circular way means consistent efforts throughout the process from production to delivery through recycling and back to production. This means that all parts of the product's lifecycle must be as sustainable as possible. The packaging industry in particular has been forced into rapid development due to the increased volumes of global e-commerce.
– I have encountered a mindset where you simply see the packaging as part of your product. And where, only when the product is packaged, does it achieve its full value. That way of thinking has become an invaluable driving force behind our own development. Solving material packaging problems is not enough. We are moving towards a future where we must take control of entirely new parameters, Thorbjörn says.
SWIF
SWIF, or the Swedish Corrugated Cardboard Association, is a trade association for the corrugated board industry in which members, such as DS Smith, meet to promote the industry's development.
– At SWIF, we meet manufacturers and discuss and handle common industry challenges. What is high on the agenda now is to reduce CO2 emissions throughout the value chain from production to delivery. What do the shipments look like, first to customers and then to consumers? By reviewing and optimising packaging, we can reduce the size of the packaging and thereby reduce the number of shipments, says Thorbjörn.
Circular Design Metrics
Circular thinking will be a decisive factor in the future of the planet and the climate goals set around the world. So far, everybody agrees. But Thorbjörn Sagerström points out the difficulty of achieving circular objectives in the choice of packaging solution.
– There is always a risk that modern concepts become buzzwords that people like to throw around, without being in full control of them. To be on the safe side, an instrument is needed that can measure all of the various influencing factors.
DS Smith has recently introduced such an instrument. With Circular Design Metrics, packaging buyers are offered a measurement technique that unambiguously indicates whether packaging lives up to their company's environmental aspirations. At the same time, you can compare to what extent different decisions about packaging design affect the environment.
– We regard Circular Design Metrics as an important tool for promoting circularity in the world, concludes Thorbjörn Sagerström.
---
Scanpack will take place at the Swedish Exhibition & Congress Centre in Gothenburg 4-7 October 2022. It's a creative hub completely focused on sharing and disseminating ideas about new technology, new materials and new solutions that give you the awareness and edge you need to be relevant in a circular future. By bringing together innovators, designers, decision-makers, researchers and visionaries, Scanpack is an exploration of what the packaging industry can and must be tomorrow. Topical areas for Scanpack 2022 include digitalisation, the environment, sustainability and recycling as well as new trends and innovations.